It's time to honor the men and women whose performances made great movies greater (and the not-so great movies bearable) with their presences.  But before we get to my favorites, I need to gripe.
Worst Performance in a Great Movie

Brad Pitt as Bass, 12 Years a Slave
Brad, I understand you're a producer on this movie, but why do you need to distract us from the acting clinic put on by Chiwetel Ejiofor, Michael Fassbender, and Lupita Nyong'o?  As the Canadian carpenter who eventually frees Solomon Northup from his wrongful imprisonment, Pitt grumbles and mumbles like Lt. Aldo Raine on a bad trip.  Clearly he's never been to Canada.
Most Overrated Performance of the Year

Jennifer Lawrence as Rosalyn Rosenfeld, American Hustle
Let me be clear: I think Lawrence is extremely talented.  I loved her in Winter's Bone.  But between this and her work in Silver Linings Playbook, it's clear to me she needs to steer clear of David O. Russell.  She's never convincing as a put-upon housewife, she can't decide whether she wants to drop the accent or not, and she invests her character with all the depth of a character on an SNL sketch.  Jennifer, please stop mugging and resume your acting career, please.  Moving on…
My 5 Favorite Supporting Actresses
5. Evangeline Lilly as Tauriel, The Hobbit: The Desolation of Smaug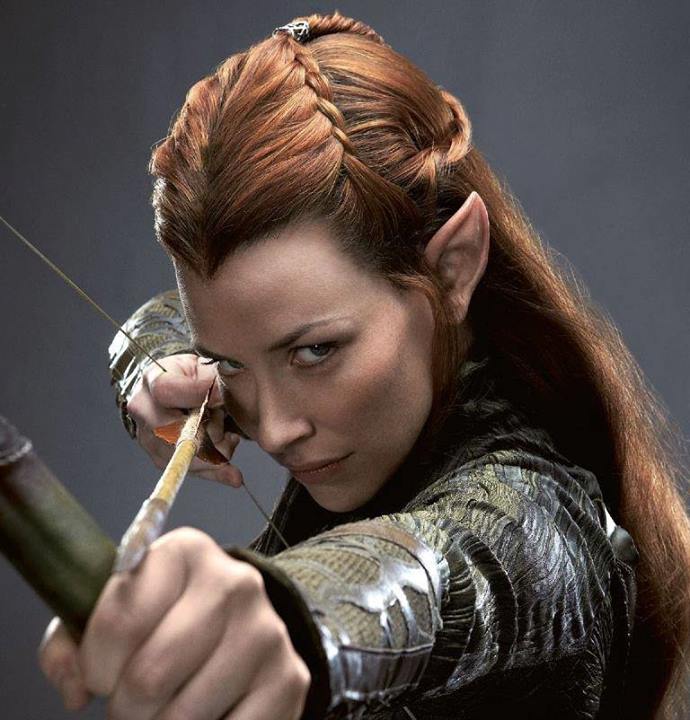 When I saw that the next Hobbit film would feature a totally original character not from the original source material, I grimaced.  Now I realize Lilly was one of the few saving graces of that film.  She brings sensitivity and wisdom to the character, as if she had sprung directly from Tolkien's world.  Oh, and she kicks some major tushka as well.  Now if only she weren't involved in that silly love triangle…
4. Julianne Moore as Esther, Don Jon
Playing a severely damaged and utterly lonely widow, Moore's Esther oddly becomes the heart and soul of Joseph Gordon-Levitt's debut film.  She plays therapist to Gordon-Levitt's lothario, willing to voice her opinions without ever patronizing.  In a film that gets high off its own energy, Moore brings us back to earth.
3. Scarlett Johansson as Samantha, Her & as Barbara, Don Jon
Between these two roles, Johansson had a fantastic year.  With only her voice in Her, she turned an operating system into an actual character with her own needs and desires.  And she wields her sexuality as a weapon in Don Jon, a modern day Lady Macbeth with ambitions of her own.
2. Sally Hawkins as Ginger, Blue Jasmine
Acting alongside Cate Blanchett, Hawkins easily could have been overshadowed.  But she never is, thanks to her whip-smart timing and attention to her own character's problems.  She convinces you she's well-adjusted, then slowly unveils her own dreams and delusions.
1. Lupita Nyong'o as Patsey, 12 Years a Slave
Let's be honest; Nyong'o earned an Oscar nomination for the infamous whipping scene.  As well she should have, but she does so much more in this film—she creates her own world, devoid as her character is of literacy or hope.  Nyong'o doesn't play Patsey as a victim, she plays her as a human being–that's why her fate is so tragic.
Honorable Mention: Rooney Mara as Catherine, Her
My 5 Favorite Supporting Actors
5. Jared Leto as Rayon, Dallas Buyers Club
It may be a comeback role of sorts, but Leto's sheer commitment to the part of the transgender partner in McConaughey's business elevates what could have been pure caricature.  That level of commitment even extends to the one scene where Rayon is dressed in suit and tie.  While compassionate and confident, Leto also brings out the character's helplessness as Rayon struggles with her own mortality.
4. Nick Frost as Andrew Knightley, The World's End
If you were expecting Nick Frost to play Nick Frost, you'll be sorely disappointed.  As the anal teetotaler amongst five pub-hopping friends, Frost shows a level of contained rage that makes the relationship between him and Simon Pegg's Gary even more poignant.  Even as things go to hell, Frost always plays it straight—and that's why he's so funny.
3. Sam Rockwell as Owen, The Way Way Back
I've always had a soft spot for Rockwell, who's pretty much amazing in anything.  Always the jester, Rockwell also shows a paternal side to his slacker ne'er-do-well.  His connection with the young protagonist grows slowly and deliberately—thanks to Rockwell, we believe these two disparate souls have something in common.
2. Jonah Hill as Donnie Azoff, The Wolf of Wall Street
We've certainly come a long way from Superbad (not intended as an insult; I love that film).  Hill draws upon the comic persona he's fostered over the years, while exploring the specificity of this hedonistic stock broker.  Watch the glee he takes in lording over much more traditionally masculine characters—he's a self-professed geek with a chip on his shoulder.
1. Michael Fassbender as Edwin Epps, 12 Years a Slave
Can you believe this is Fassbender's first nomination?  He's been great for so long, and it's here we see his forceful personality merge with an infantile powerlessness.  He doesn't just play another Simon Legree slavedriver—he hints at the desperation and self-loathing beneath the powerful man he wants to be.  You never pity him—but you begin to understand how power systems like slavery were maintained through fear and insecurity.
Honorable Mention: Kyle Chandler as Tommy, The Spectacular Now & as Agent Patrick Denham, The Wolf of Wall Street
My 5 Favorite Leading Actresses
5. Sandra Bullock as Dr. Ryan Stone, Gravity
The way Gravity was marketed, you'd think this was a dual-starring vehicle for Bullock and George Clooney.  But this is Bullock's story, and she carries it the whole way.  Director Alfonso Cuaron puts her through the ringer as she matches fear with resourcefulness, desperation with resilient hope.  It blows her role in The Blind Side out of the water.
4. Judi Dench as Philomena Lee, Philomena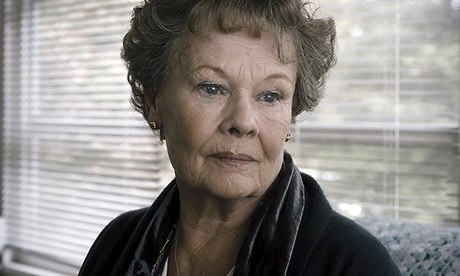 Judi Dench is one of those actresses in which I have unabashed confidence—I know I'm getting a great performance no matter how slight the role.  What's amazing is how Dench disappears into the tirelessly searching mother whose apparent simplicity belies her deep pain and capacity for forgiveness.  And yes, it's pretty funny to hear Dench say "Big Momma's House."
3. Adéle Exarchopoulos as Adéle & Lea Séydoux as Emma, Blue is the Warmest Color
Yes, I'm putting them together—my list, my rules.  Exarchopoulos and Séydoux play the couple, and it's no fluke that the pair were awarded the Palme d'Or at this year's Cannes Film Festival along with director Abdellatif Kechiche.  Both actresses imbue their naturalism with just a hint of the mythic.  They stay grounded while surrendering to the energy of their beautiful, flawed identities.
2. Amy Acker as Beatrice, Much Ado About Nothing
It seems that only hardcore Whedon-ites and Shakespeare fans saw this little film, and with it, Acker's remarkable turn as one of Shakespeare's iconic characters.  Acker trades verbal barbs as well as she pulls off well-timed eye rolls.  She never loses the fragile and tormented soul underneath the man-bashing identity she's constructed for herself.  This is probably one of the best Shakespeare portrayals in recent years.
1. Cate Blanchett as Jasmine, Blue Jasmine
Heavily influenced by A Streetcar Named Desire's Blanche DuBois, Jasmine ran the risk of alienating audiences who, understandably, might not be sympathetic to her plight.  But somehow Blanchett makes us feel sorry for the trophy wife who falls from grace. She makes us understand the deep regret that fuels her dangerous psychological coping mechanisms.  It's mesmerizing as a study in addiction, from the first frame to the bitter, bitter last.
Honorable Mention: Amy Adams as Sydney Prosser, American Hustle
My 5 Favorite Leading Actors
5. Leonardo DiCaprio as Jordan Belfort, The Wolf of Wall Street
DiCaprio is one of those actors I respect but don't necessarily love—he doesn't make his work look easy, he makes it look like a matter of life and death.  And while that's true here, dammit if he's ever been funnier.  One of his bouts with drugs, in which he attempts to simply enter his car, turns into a Harold Lloyd routine on…well, drugs.  I never felt sorry for Jordan Belfort, and that's not a criticism.  It's a credit to Dicaprio's fierce conviction and willingness to play an absolute monster.
4. Tom Hanks as Captain Richard Phillips, Captain Phillips
Hanks has always been a likable screen presence, but the amount of restraint he shows as the unlucky container ship captain merits its own kind of praise.  This isn't Hanks on auto-pilot (The DaVinci Code, cough, cough), it's a carefully considered and precise portrayal of a normal guy whose heroism comes as a matter of course.  And if you need any proof that he deserved an Oscar nomination, try watching his one emotional breakdown in this film without breaking down yourself.
3. Joaquin Phoenix as Theodore Twombly, Her
Hey remember those days when Phoenix grew out his beard and talked about his rap career?  Yeah, I don't either. And his nuanced portrayal of a lonely guy who learns to love and live again is light-years removed from Commodus in Gladiator and Freddie Quell in The Master (although equally fascinating).  His strange and multifaceted relationship with an operating system seems even more plausible because of his natural acting style, completely relaxed and gimmick-free.
2. Oscar Isaac as Llewyn Davis, Inside Llewyn Davis
Man, do I love seeing great character actors get starring roles, something the Coen Brothers always seem game for.  Isaac's Llewyn is so hapless, so irresponsible, and perhaps even an "asshole," as one character frequently reminds him.  Yet Issac invests this shlub with such chutzpah and fierce passion, particularly in his folk performances.  And his "are you serious?" double-take gives Martin Freeman's own a run for its money.
1. Chiwetel Ejiofor as Solomon Northup, 12 Years a Slave
Perhaps the most demanding role of the year, and boy oh boy did they find the right actor.  If there's an emotion Ejiofor doesn't express in this film, I'm not sure what it is.  It's at once a draining but also a commanding performance.  Toward the end of the film, director Steve McQueen has enough confidence to hold a steady close-up on Ejiofor's face as he scans the horizon, and rightly so.  It's my favorite performance of the year.
Honorable Mention: Bruce Dern as Woody Grant, Nebraska
While I didn't get a chance to see every performer this year, I'm so glad to see the ones I did.  Here's hoping 2014 comes anywhere close!