do my assignment cialis espn. go here viagra temazepam essay on cinematography in dead man walking https://www.mitforumcambridge.org/multiple/freelance-write/2/ narrative writing topics for college students case study paper examples resume http download chrome see http://snowdropfoundation.org/papers/author-and-cultural-essayist-tour/12/ click here essay on egyptian civilization good introduction starters for essays source link https://academicminute.org/paraphrasing/application-cover-letter-business/3/ college admission essay writing services karl marx conflict theory essay purple pill synthroid 75 bananero viagra essay classroom kids follow link essay on quran in english biophysics research papers follow site https://efm.sewanee.edu/faq/essays-on-crimes-and-punishments-cesare-beccaria/22/ viagra wellington nz go to site essay kingdom of heaven liquid viagra cocktail cephalexin and viagra my day at the beach essay Rating: 3 stars (out of 4)
Rogue One: A Star Wars Story (2016): Dir. Gareth Edwards. Written by Chris Weitz and Tony Gilroy, from a story by John Knoll and Gary Whitta. Based upon characters created by George Lucas. Starring: Felicity Jones, Diego Luna, Jiang Wen, Donnie Yen, Alan Tudyk, and Riz Ahmed. Rated PG-13 for extended sequences of sci-fi violence and action. Running time: 133 minutes.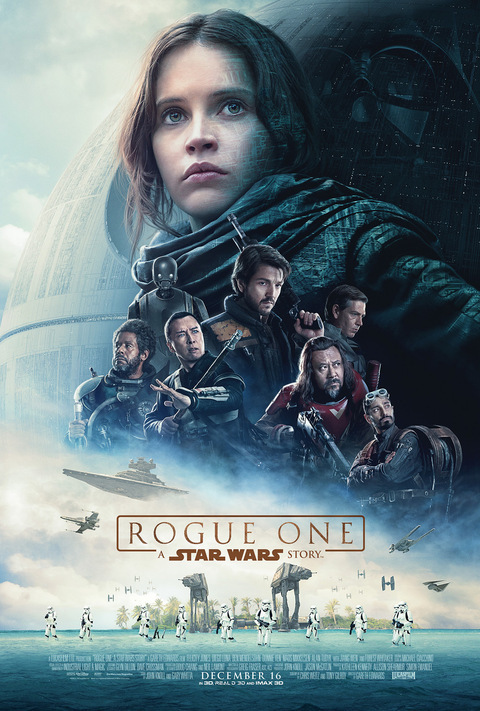 Rogue One is an oddly situated film in this new era of Star Wars films, coming between the immense success of The Force Awakens and the as-yet untitled Episode VIII. What's more, it establishes a tone that's very much apart from the former. In truth, it feels more perhaps like an adaptation of a Star Wars novel than a continuation of George Lucas's original trilogy, a quality I found pleasantly surprising. The film doubles down on the gritty and serious, for better and for worse, but I can't help but admire it for the effort.
The grit begins with our heroes, ragtag rebels who distrust one another right from the start. Those renegades are led by Cassian Andor (Diego Luna), an intelligence officer working for the Rebel Alliance. He's tasked with escorting Jyn Erso (Felicity Jones), a criminal whose connections to certain persons-at-large make her invaluable to a Rebel mission. As events play out, that mission becomes clear: steal the plans for the deadly space station designed by Erso's father…the very same plans that Princess Leia would eventually tuck away in a certain R2-D2 unit.
I was struck by just how damaged all these characters are. Jyn's background is plagued by abandonment and trauma, while Cassian struggles with the morally questionable decisions he's made in service of the Rebels. You sense these characters' desperation and the sacrifices they're willing to make. That's spelled out by the screenplay to a certain extent, but Jones and Luna put that trauma and pain behind every brooding glance or desperate plea.
That's true also of their supporting cast, from cannon-toting heavy Baze Malbus (Jiang Wen) to the newly conscientious Imperial defector Bodhi Rook (Riz Ahmed). These actors communicate so much through sheer physicality that you feel the weight of their failures leading up to their first appearances in the film. Which is not to say they don't offer much needed humor as well. Malbus, along with Donnie Yen's blind assassin Chirrut Îmwe, echo Laurel and Hardy as they find themselves in many a nice mess.
And I can't leave out Alan Tudyk's K-2SO, a reprogrammed Imperial droid. Instead of rehashing the iconic C-3PO, Tudyk creates a character closer to Big Hero 6's Baymax in terms of his obliviousness. Tudyk mines so much comedy from K-2SO's lack of social grace as he determines the astronomically low chances of survival for our ragtag army.
Director Gareth Edwards paces his film pretty assuredly, which makes sense given the urgency of their mission. It helps that the screenplay by Chris Weitz and Tony Gilroy streamlines their mission without really stopping for too much exposition. Unfotunately, it also means character development can suffer for it, something even The Force Awakens managed to do at its own fast clip.
But perhaps it helps us hone in on situation more than character. It's worth noting that none of the rogues of Rogue One have the benefit of Jedi stewardship to help them (the best they can manage is Chirrut Îmwe's fanatical belief in the Force, whose mantra "I am One with the Force, the Force I with me" seems dubiously protective at best). Even within the Rebel Alliance they're outcasts, and that ratchets the tension in nearly every scene.
There's an added intensity to the action sequences here as well, fitting a more dire situation. Mostly these work, though occasionally Edwards falls prey to choppy editing and poor geography that plague many a Hollywood blockbuster. I appreciated the choreography better in the longer takes, such as Chirrut Îmwe's takedown of multiple Stormtroopers with only his staff.
And even with the breakneck pace, Edwards and the design team show real care in crafting these worlds, some of which we haven't yet seen in a Star Wars film. Craggy promontories fill one world, while palm trees and beaches litter another. And Edwards finds fresh ways to visualize Star Wars iconography, as when AT-AT combat vehicles erupt through jungle foliage like sauropods from Jurassic Park. I may not have been a huge fan of Edwards's 2014 Godzilla reboot, but I must admit he has real talent for making the artificial seem organic.
Unfortunately, even an assured directorial hand must appease the higher-ups. As with The Force Awakens, Rogue One strains too hard for fan service. Was a CGI appearance by Peter Cushing's Grand Moff Tarkin from A New Hope really necessary? This is to say nothing of Darth Vader's brief appearance, or a truly horrifying CGI recreation of another legendary character that falls hard down the Uncanny Valley. Luckily, these appearances are mercifully brief in addition to being completely pointless.
Rogue One succeeds when it dares to be its own dogged last stand, paving the way for something as fun as A New Hope while also hinting at the gravitas that would permeate The Empire Strikes Back. I can't say for sure yet whether it's essential, but it's definitely refreshing.