Rating: 2 stars (out of 4)
Star Wars: Episode IX: The Rise of Skywalker (2019): Dir. J.J. Abrams. Written by Chris Terrio and J.J. Abrams, from a story by Terrio, Abrams, Derek Connolly, and Colin Trevorrow. Starring: Daisy Ridley, Adam Driver, John Boyega, Carrie Fisher, and Oscar Isaac. Rated PG-13 for sci-fi violence and action. Running time: 141 minutes.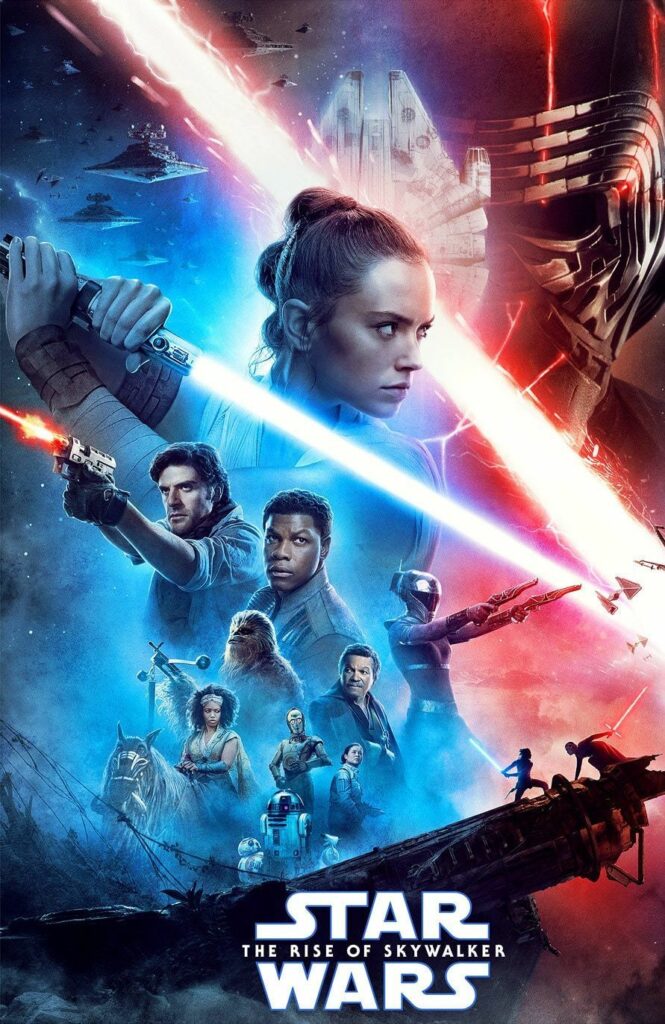 Assessing this final installment in Disney's recent Star Wars trilogy, I have to wonder: should I be more disappointed? On one hand, the numerous narrative and character flaws seem to demand a severe scolding. But those flaws make me feel more apathetic than angry. If you've read my opinion on The Last Jedi, you know I was a huge fan of that film (I still believe it's the best Star Wars entry since The Empire Strikes Back). But not only does Rise fail to live up to its predecessor, I'm not convinced it fully made the effort. It's the cinematic equivalent of a shoulder-shrug.
That's not to say there aren't things to like here. From a technical perspective, everything appears to be on point. Within the first hour or so, director J.J. Abrams brings his propulsive pacing to many an exciting chase scene (especially a skiff skirmish on a desert planet). Lean direction, visceral cinematography, and cutting-edge special effects make this one good-looking picture. But even as I found myself awash in the character banter, or the speed and flow of the action, I kept wondering…what sort of film does this trilogy-ender want to be?
I truly couldn't tell you. And I'm not sure Abrams or his co-screenwriter Chris Terrio could tell you, but they evidently made a pact to get it done, regardless of the film's cohesion with other films in the series. Numerous characters and setups from the first two films fail to pay off (and in some cases, fail to make any meaningful appearance) in this last installment. Of course, there were other mitigating factors, such as the tragic loss of Carrie Fisher, which clearly affected what should have been General Leia Organa's shining moment. But that's no excuse for new plot elements conjured seemingly out of the blue, giving us a recognizable threat instead of carrying through the character arcs previously established.
Unfortunately, Rise suffers from too much efficiency in its narrative. So many plot developments feel like last minute fixes designed to plug up plot holes and rush our characters to the finish line. Even the revelation of Emperor Palpatine's survival from the events of Return of the Jedi (which I feel comfortable mentioning with his appearance in this film's trailer) comes off as a last-ditch effort to win back jilted fans. I've read that his patently obvious incineration at the end of that film is explained away by "consciousness jumping." That's the same logic usually deployed for soap opera resurrections, and beyond lazy for such an innovative franchise.
Occasionally the film slows down, and we can drink in some true visual potency. Roiling waves like moving mountains. A pulsing strobe light on Palpatine's milky eyes. Horse-like creatures galloping on Imperial starships, like two different time periods colliding. Unfortunately these moments are fleeting; they make impressions on their own, instead of advancing any concrete or coherent ideas.
And in its climactic moments, the film suffers from an utter lack of tension. Rise doesn't ground these moments in character; it relies on old-fashioned beliefs about heredity that the new trilogy really hasn't established. That said, I should give credit to Daisy Ridley and Adam Driver, the true MVPs of this new trilogy, who made me care even when the plot veered off into nostalgia nonsense-ville. And that's a real credit to them, when you consider some of the ridiculous things the plot asks them to do. You can't help but wish they, along with John Boyega and Oscar Isaac and Kelly Marie Tran, were in a better movie.
Who knows? Perhaps in an even newer trilogy, Disney will find the right creatives to craft stories that stir and inspire. But that may mean more time, and risk, and the willingness to grant those considerations. I doubt any of these subsequent films will be abject failures. But I do wonder if, like this film, they may settle for purely competent. Call me crazy, but purely competent doesn't seem good enough for Star Wars.